YPPKI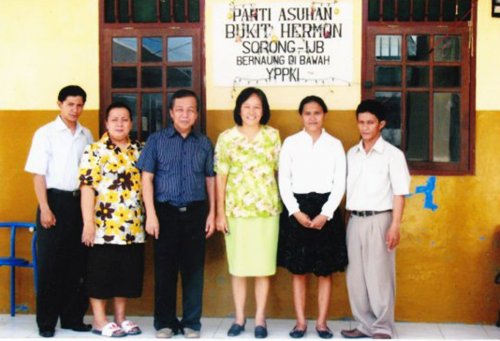 Dari kiri/from left/från vänster; 
Profil Pengasuh PA Bukit Hermon : Pdm. Bobby Sumilat
Isteri pengasuh PA Bukit Hermon : Pdm. Ratna Sumilat

Ketua Dewan Pengurus YPPKI : Bapak Herman Susanto

Pimpinan panti/Sekretaris YPPKI  : Ibu Mary Iriana Kawiran

Isteri pengasuh  PA Kasih Agape : Ibu Susan Mapaudeng

Profil  Pengasuh PA Kasih Agape : Bapak Reval Mapaudeng

Bpk Herman Susanto, bangun thn 2003 YPPKI (Yayasan Pemberdayaan Pembangunan Kristen Irene), bersama isteri Mary Iriana Kawiran, yakni sekretaris YPPKI dan juga sebagai pimpinan panti asuhan.
YPPKI sebenarnya mempunyai scope kegiatan yang cukup luas, seperti mendirikan panti asuhan, poliklinik kesehatan, mendirikan sekolah yang melayani masyarakat (umum) dan masih banyak kegiatan lainnya seperti membangun usaha panti yang tujuannya untuk menopang kelanggengan ataupun kesinambungan panti yang ada.
Mr. Herman Susanto established 2003 YPPKI (Irene Christian Empowerment and Development Foundation), together with his wife Mrs. Mary Iriana Kawiran, secretary of YPPKI as well as managing the leaders of the orphanages.
The obective of YPPKI is wide ranged, and cover establishment of orphanages, clinics for healthcare, schools. The purpose of YPPKI´s work is also to take care of the youth, after leaving the orphanages, by start up companies where the yout can work and get an income for the future life.
Herr Herman Susanto etablerade 2003 institutionen YPPKI tillsammans med sin fru Mary Iriana Kawiran, tillika sekreterare i YPPKI samt ledare för personalen på barnhemmen.
Spännvidden på YPPKI´s arbete innefattar bl.a. uppbyggnad av barnhem, vårdcentraler och skolor. Ändamålet med YPPKI´s arbete är också att slussa ut de barn som vuxit ur barnhemmen till ett liv där de kan försörja sig, genom att bygga upp ett företagande.